On Tuesday, June 7, the Fulbright Foundation in Greece held its Annual Awards Ceremony at the Ambassador's Residence in Athens. Sixty-three scholars were awarded Fulbright scholarships, encompassing a diverse range of academic interests and institutions. Fulbright Executive Director Artemis Zenetou welcomed the guests, and the Ambassador of the United States, George J. Tsunis, addressed the audience on the important topics of education and exchange.
Read the remarks by U.S. Ambassador George J. Tsunis by clicking on the link below:
Minister of Education & Religious Affairs Niki Kerameus, a strong advocate for educational exchanges and scholar mobility, also addressed the audience of scholars and guests:

"It is with great pleasure that I stand among friends and colleagues, both from Greece and the U.S.A., with whom we share the same vision: extroversion, exchanges, interactions among educational institutions, more options and broader horizons for the next generations."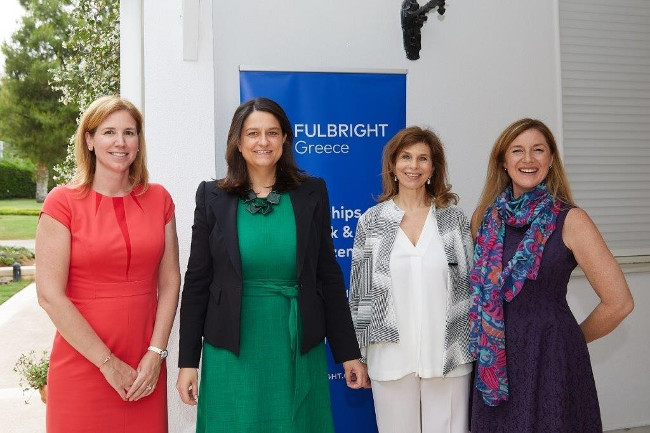 From left to right: Cynthia Harvey, Counselor for Public Affairs | Minister of Education Niki Kerameus | Fulbright Executive Director Artemis Zenetou | Shanna Dietz Surendra, Cultural Affairs Officer


From left to right: Panagiotis Kaldis, Rector, University of West Attica | Chryssi Vitsilaki, Rector, University of the Aegean | Stylianos Katranidis, Rector, University of Macedonia | Minister of Education Niki Kerameus | Despina Mouzaki, Associate Professor, Aristotle University of Thessaloniki | Orestis Kalogirou, President at Hellenic NARIC (DOATAP) | Nikolaos Papaioannou, Rector, Aristotle University of Thessaloniki | Michael Koutsilieris, President, State Scholarship Foundation (IKY) | Spyridon Kintzios, Rector, Agricultural University of Athens